Flip Flop Vibrating Screen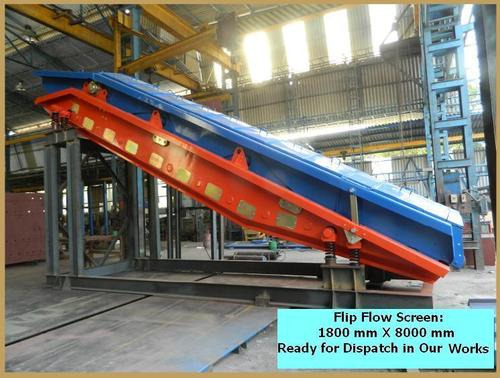 Flip Flop Vibrating Screen
Product Description
Flip Flop Screens that we manufacture are perfectly suited for difficult to handle materials. While other conventional screens clog or stick, ours performs outstandingly. It can perform high specific feed rates and minimized clogging, sticking and dynamic loads. This machine is very reliable and has mechanically strained screen mats. There are screen crossbeams that are fitted onto the external and internal frames which can moved together at the same time. The frame movements tighten and loosen the flexible screen panels that are fitted onto these crossbeams. The high acceleration of the screens that are generated by electricity prevent the screen deck to get blocked up. Overall a great choice of product.
Ecoman, the nation's driving mechanical gear producer additionally makes wonderful assortment of Flip Flop Vibrating Screens for improving material screening proficiency at applications crosswise over differed businesses. Ecoman has consolidated broad understanding combined with mastery in assembling flip slump machines and emerged as a standout amongst the most favored flip tumble producers in the market. Our flip stream screen is planned such that it handles intense screening errands effortlessly dissimilar to its customary partners that are touchy to hard screening undertakings. Being the most solid flip slump machine makers, we fabricate machines that join two movements to make a development that is double dynamic.
Our item includes framework with recognizing double vibration system, extension and Contraction component of lower screen empowers high increasing speed, moment screen trade, eliminating landfill costs and raising new incomes, disposal of screen stopping and any conceivable blockages, capacity to oversee distinctive materials, life span combined with low upkeep.
These vibrating screens are utilized as a part of total creation, biomass, skip squander partition, plastic divisions, sold recouped fuel, business and modern waste, rejected determined fuel, development and annihilation squander.