Smooth Double Roll Crusher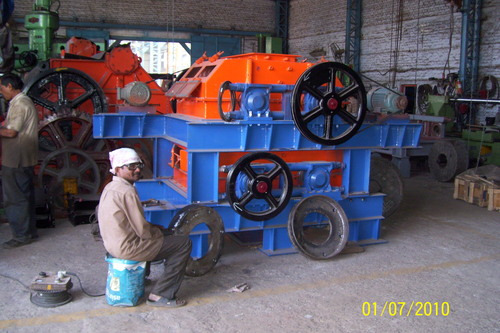 Smooth Double Roll Crusher
Product Description
Our Smooth Double Roll Crushers are manufactured with unique features like reliability, durability and long service life. This machines are used with many things like rocks, chemicals and ceramic materials like ore, glass, salts, coke and coal. Our product is in a high demand as they are easy to install and require less man power. It requires minimum maintenance and is available at affordable prices.

Advantages of Smooth Double Roll Crusher
As the material is crushed only once, when it passes through the gap, the percentages of fines is much less.

As there is no to & fro movement, but a fixed gap, percentage of oversize is bare minimum, that too, only in two dimensions & one dimension is always less than gap setting.

By setting the gap to say 80% of the product size, 100% desired product, without oversize can be achieved.

With the given capacity & reduction ratio, smooth double roll crusher is the most economical crusher.

Maintenance very simple & capacity-wise it can be compared to cone crusher.
Smooth-Serrated Rolls

Feed size-Setting-Capacities SM=Smooth SR=serrated


Sized of Roll

Sized of Roll

Feed Sized

Product Size

M3/HR

TPH/16T/M3

Diam

Width

SM

SE













500

400

SM




20

6

10

16

500

400

SM

SR

25

9

12

18

500

400

SM

SR

30

12

14

22

500

400

SM

SR

40

15

18

28

500

400

SM

SR

42

20

20

32

600

400

SM

SM

22

6

14

22

600

400

SM

SM

28

9

16

25

600

400

SM

SR

35

12

18

28

600

400

SM

SR

42

15

20

32

600

400

SM

SR

44

20

25

40

600

600

SM

SM

22

6

20

32

600

600

SM

SM

28

9

22

35

600

600

SM

SR

35

12

26

41

600

600

SM

SR

42

15

30

48

600

600

SM

SR

44

20

45

72

800

600

SM

SM

25

6

20

32

800

600

SM

SM

35

9

22

35

800

600

SM

SR

44

12

26

41

800

600

SM

SR

50

15

30

48

800

600

SM

SR

57

20

35

56

800

600

SM

SR

64

25

45

72

800

800

SM

SM

25

6

25

40

800

800

SM

SM

35

9

28

45

800

800

SM

SR

44

12

32

50

800

800

SM

SR

50

15

42

67

800

800

SM

SR

57

20

45

72

800

800

SM

SR

64

25

60

96

1000

800

SM

SM

30

6

28

45

1000

800

SM

SM

44

9

32

50

1000

800

SM

SR

57

12

35

56

1000

800

SM

SR

64

15

45

72

1000

800

SM

SR

70

20

50

80

1000

800

SM

SR

82

25

65

104

1000

800

SM

SR

90

30

80

128

1000

800

SM

SR

95

40

90

144