Linear Vibrating Screens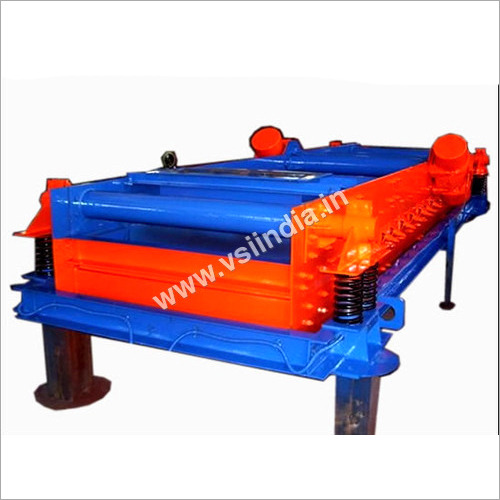 Linear Vibrating Screens
Price And Quantity
Product Specifications
Vibrating Screen

Vibrating Screen
Product Description
We have established ourselves as a prominent manufacturer of vibrating screens in the country. Our range primarily includes two types: circular motion vibrating screens and linear motion vibrating screens. These screens find extensive usage in industries such as ceramics, food, chemicals, and coarse to medium-fine applications.
Circular Motion Vibrating Screens:
Two-bearing free-floating design
Efficient screening of moderately free-flowing materials
Rapid stratification at the feed end for precise sizing
Minimizes processing time
Linear Motion Vibrating Screens:
Ideal for screening bulk material
Sturdy screen construction available in welded or bolted design
Driven by one or multiple exciters or unbalanced motors
Compatible with various screen mats
Suitable for installation in confined spaces
Sizes Available of Linear Vibrating Screens:
Imbalanced Weight (Geared Type) Construction: Widths: 1000 mm to 3800 mm Lengths: 2500 mm to 10000 mm
Imbalanced Motor Construction: Widths: 400 mm to 1250 mm Lengths: 1250 mm to 3000 mm
Process Application: Separation/Classification/Sizing/Draining
Industrial Application: Iron Ore Beatification Plants/Iron Ore Washing Plants/Sand Washing Plant.
Linear Vibrating Screens
Benefits
High screening efficiency for precise material separation and classification
The ability to work with a diverse range of materials and applications.
Low power usage and simple construction
Simple to use and maintain
Screening of both wet and dry materials that is effective
Reduced downtime and increased productivity
For customized screening, the amplitude and frequency may be adjusted.
dependable operation with less noise and vibration
Download Brochure

Linear Vibrating Screens FAQs
A linear vibrating screen works on what principle?
A linear vibrating screen works by vibrating the screen box, which allows materials to travel over the screen surface. An electric motor with an imbalanced weight or a vibrating component causes the vibration. Smaller particles flow through the perforations in the screen, whereas bigger particles remain on the screen.
What are the primary parts of a linear vibrating screen?
The screen box, which contains the screen mesh, the vibration exciter, which creates the vibrating motion, the damping system, which decreases vibrations, and the support base, which provides stability and support for the screen are the key components of a linear vibrating screen.
What are the benefits of employing a linear vibrating screen?
Linear vibrating screens provide a number of advantages. They provide great screening efficiency, guaranteeing precise material separation and categorization. They are appropriate for a wide range of applications and can work with a variety of materials.
What materials can a linear vibrating screen handle?
Minerals, metals, coal, aggregates, chemicals, and other materials can be processed using a linear vibrating screen. It is widely utilized in mining, quarrying, building, recycling, and chemical processing.
Trade Information
Letter of Credit (L/C) Cash in Advance (CID) Cheque Cash Advance (CA)

7-8 Months
South America Western Europe Australia North America Eastern Europe Middle East Central America Africa Asia

All India