Linear Vibrating Screens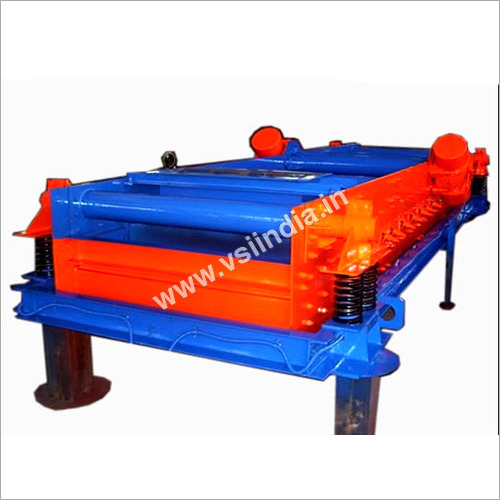 Linear Vibrating Screens
Product Description
We are known to be one of the leading vibrating screens manufacturers in the country . We offer mainly two types of vibrating screens where one is known as circular motion vibrating screen and the other is linear motion vibrating screen. In an ideal situation, vibrating screens are mostly used in industries such as ceramics, food, chemicals, allied coarse and as well as medium-fine applications.
Circular Motion Vibrating Screens: It is a two bearing free floating Vibrating Screen that efficiently screens every moderately free flowing materials. Circular motion fortify rapid stratification at the feed end which produces a precisely sized product with minimal time possible.
Straight vibrating screens we offer are utilized for screening of chatty mass material. The vigorous screen outline is made, contingent upon the application, either in welded or in shot and stuck plan. These screens are driven by one or a few exciters drives or by a couple of uneven engines. Our straight vibrating screens can be outfitted with every single distinctive sort of screen mat accessible available. The limited stature of the screen considers establishment in confined space. This item has a high feed rate, exceptionally strong outline, customized highlights for expansive assortment of utilizations, expanded quickening which is likewise for extensive size machines, all screen frameworks accessible for utilize, streamlined drive idea and high accessibility.
Sizes available: Widths ranging from: 600 mm to 2500 mmLengths ranging from: 1500 mm to 8000 mm Linear Motion Vibrating Screen, Number of Decks: up to 4Capacity (TPH): 1000
Linear Motion Vibrating Screens: Linear Motion Vibrating Screens are be a better solution than circular motion as they offer of a larger area for screening. Screens ranging up to 40 square meters of Deck Area is made available in Single or Double Deck construction.
Sizes Available:
Imbalanced Weight (Geared Type) Construction: Widths: 1000 mm to 3800 mm Lengths: 2500 mm to 10000 mm
Imbalanced Motor Construction: Widths: 400 mm to 1250 mm Lengths: 1250 mm to 3000 mm
Process Application: Separation/Classification/Sizing/Draining
Industrial Application: Iron Ore Beatification Plants/Iron Ore Washing Plants/Sand Washing Plant.