VSI Crusher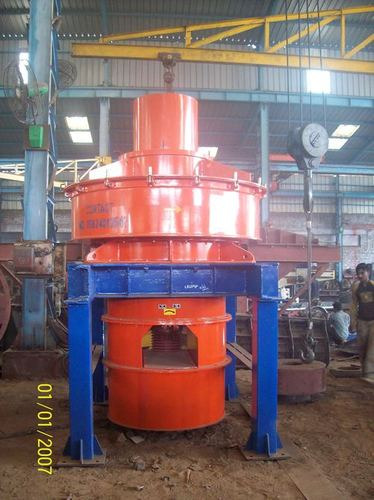 VSI Crusher
Price And Quantity
Product Specifications
Electric

120 Horsepower (HP)
Product Description
VSI Crusher is a product that is manufactured by our company. It drops the feed material through a tube onto the impeller table. Then the materials are thrown against the anvils that are made up of composite metal alloys through a centrifugal force. The rocks are broken down when they hit the anvil into the natural stress lines which create a uniform and cubical product. This way of crushing is highly simple and economical operations. In this Vertical Shaft Impact Crusher there are 5 major physical components put into 3 dimensional real time mathematical model representing functional logic relationships.
VSI Crusher is designed for reducing the sizes of the materials or crushing large-sized rocks. This is one of the highly productive tools widely used in the mines and ore processing industry. It is designed for enhancing the operating efficiency and productivity with its high sped control. The eccentric of the machine is placed at the top of the swinging jaw to provide jaw with an advantage. This jaw can easily perform two motions at the same time.
Our firm manufactures the VSI Crusher, a multifunctional equipment used for material reduction and crushing huge rocks. It has high-speed control and a one-of-a-kind design with the eccentric located at the top of the swinging jaw, giving it a distinct edge. The VSI Crusher is designed expressly to improve operating efficiency and productivity, making it a highly efficient instrument that is widely used in the mining and ore processing sectors. The offered device is notably built with tough and long lasting materials to ensure strength and durability.
VSI Crusher Benefits
Create excellent cubical-shaped end products, making them suited for the production of well-graded and shaped aggregates.
Well-known for their capacity to handle hard and abrasive materials effectively, resulting in consistent crushing performance.
Give flexibility and variety in modifying parameters, enabling for easy customization to produce desired particle sizes and shapes.
FAQs of VSI Crusher
Is a VSI crusher appropriate for both mandatory and optional crushing?
A VSI crusher can be used for both necessary and optional pounding.
What are the main parts of a VSI crusher?
A rotor with impellers or anvils, a feed cylinder or hopper for material input, a crushing chamber, an adjustable breaker plate, an engine or power source to drive the rotor, and a discharge aperture or chute are the major components of a VSI crusher.
What are the benefits of utilizing a VSI crusher?
In the mining and aggregate sectors, using a VSI crusher has various advantages. It yields high-quality cubical-shaped end products, making it suited for the production of well-graded and shaped aggregates. They also offer flexibility and adaptability, allowing for simple adjustments.
Trade Information
Cash in Advance (CID) Cheque Cash Advance (CA) Letter of Credit (L/C)

7-8 Months
Western Europe Middle East Africa Asia Australia North America South America Eastern Europe Central America

All India